In the ever-evolving world of vaping, innovation is the key to delivering a satisfying experience for enthusiasts. One such innovation that has taken the vaping community by storm is the Rincoe Jellybox XS 2 Pod System. This sleek and powerful device boasts a host of impressive features that cater to both beginners and seasoned vapers alike. In this article, we'll take an in-depth look at the Jellybox XS 2 , from its compact design to its cutting-edge technology.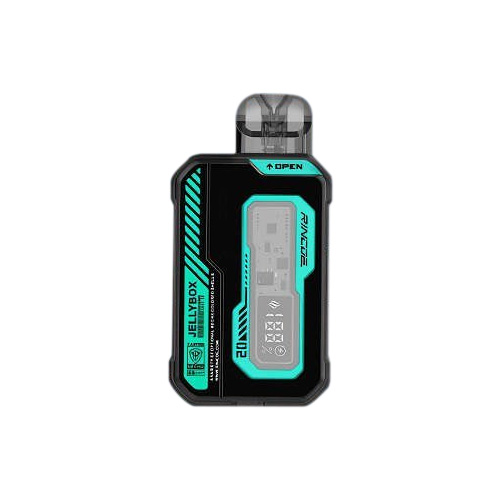 The Jellybox XS 2 vape measures in at a pocket-friendly 92mm by 48mm by 23mm, making it a truly compact and portable device. Its chassis is constructed from a blend of PC, ABS, and Alloy, not only ensuring durability but also giving it a modern and attractive aesthetic. The combination of these materials provides the device with both sturdiness and a lightweight feel, making it ideal for on-the-go vaping.
One of the standout features of the Jellybox XS 2 kit is its impressive 1000mAh built-in battery. This powerhouse of a battery offers ample power to keep you vaping throughout the day without the need for constant recharging. With a maximum wattage output of 30W, this device strikes a balance between performance and preserving your e-liquid's flavor profiles.
To top off its convenience, the Rincoe Jellybox XS 2 Pod System incorporates a Type-C charging port. This means you can quickly recharge your device, ensuring minimal downtime between vaping sessions. No more waiting around for hours on end – just plug it in, and you'll be back to vaping in no time.
The Jellybox XS 2 by Rincoe comes with a 2mL pod capacity, which is ideal for a variety of e-liquids. But what truly sets it apart is its integrated coil system. Say goodbye to the hassle of manually installing coils – this device simplifies the process, making it perfect for those new to vaping. The pod connection is magnetic, ensuring a secure fit every time and minimizing the risk of leaks.
Keeping track of your vaping statistics is a breeze with the integrated display screen. It provides real-time information on your battery life, wattage settings, and more, giving you full control over your vaping experience. Whether you prefer a subtle draw or an intense cloud-chasing session, the Rincoe Jellybox XS 2 allows you to tailor your settings to your liking.
Conclusion
In conclusion, the Rincoe Jellybox XS 2 pod vape is a standout addition to the world of vaping devices. Its compact and durable design, combined with a powerful battery and convenient features like Type-C charging and integrated coils, make it a top choice for vapers of all levels. The device's display screen offers customization options and keeps you informed about your vaping experience. If you're in the market for a reliable and stylish pod system, it is certainly worth considering. Upgrade your vaping game and experience the future of vaping with this impressive device.
You may also like:rincoe manto aio plus 2